the best work from home businesses anyone can do
So, you're looking for some business ideas to start from home?
Whether you're unemployed and looking for work from home jobs or just hate your current job away from home, there has probably never been a better time to jump start your new work from home career.
In fact, around 5% of Americans now work from home, and with the current health crisis, that figure has probably grown even larger.
the benefits of working at home
There are some amazing benefits from working at home that are hard to ignore:-
Seriously, what's not to love about working from home?
With that in mind, I've put together 10 work from home business ideas that I believe anyone can set up.
Yes, you're going to need to put in some effort to make good money but these are business ideas that you don't need qualifications to start.
These businesses are also super cheap to set up. There is no need for thousands of dollars of initial investment like some businesses require.
So, let's check them out!
---
---
Blogging is one of the most perfect work from home businesses you can set up.
Not only is it a very cheap business to run, it can also be extremely lucrative and it doesn't have to take you years and years to start making money.
Many people are apprehensive about starting a blog because they think "oh, I'm no good at writing – I could never do that".
The thing is, blogging is not about being a prize winning novelist.
Blogs are meant to be written in a conversational style – so provided you can speak and put those words into writing, you can write a blog.
what to blog about (Your Niche)?
One of the most important questions a prospective blogger will have is deciding what exactly they should write about.
This is a key question, especially for a blog that you want to become a profitable business.
Not every blogging niche or topic makes money, so it's vitally important that you get this right.
I have lost count of the number of times I've seen people asking why they're not making money from their blogs, only to then discover that they blog about something completely obscure with a tiny audience.
The key is to pick a topic that is searched for a lot. Something where there's already a sizable audience out there ready to soak up your material.
The more people you can get reading your blog, generally the more cash you'll make.
Once you've picked a hot topic then you can always "niche down" and get more specific on an area of that topic later.
Here's some niches I know work well and have huge audiences:-
Health and wellness
Personal finance
DIY
Travel
Food
Home decor
Fashion
Health and beauty
Self improvement
That is not an exhaustive list but these are some of the niches I know for a fact work well.
The exciting bit!
I was blown away when I first read how much bloggers can earn.
Here's a few examples:-
Alex and Lauren – Avocadu & Create and Go – $200k per month
John Morrow – Smart Blogger – $100k+ per month
Michelle Schroeder – Making Sense of Cents – $100k+ per month
Huff Post (yes, it's a blog) – $500m a year
How insane is that?!!
I mean, even if you don't hit those crazy figures, it is fairly common to earn $3,000 – $5000 a month as a blogger and this can be done within a year with some consistent effort.
Blogging Platform
There are many platforms to start a blog on but if you're serious about running a blog as a business then my strong advice is to start a blog on WordPress.org (not to be confused with WordPress.com).
WordPress.org is essentially a place where you can build your blog/website.
It is super customizable, free and is pretty much the industry standard for blogging. Something like a third of the sites on the internet are built on it.
You might be tempted to go with another platform, like Wix or Blogger, but trust me, do not do it – this is crucial! You will only regret it later.
Hosting
To start a blog on WordPress.org you need hosting. This is essentially where the files for your blog live so your blog can be accessed on the web.
You can get hosting with a host like BlueHost for as little as $3.95 per month with my special link.
They even offer a 30 day money back guarantee if you decide blogging isn't for you.
BlueHost is great for beginners and is very easy to operate.
And you know how I said blogging is a super cheap business to run, well, that $3.95 a month expense is literally all you need to spend to get your blog up and running.
Crazy!
Themes
A theme is essentially a template for how your blog will look and operate.
There are literally thousands of themes for WordPress, some of which are free and others that cost (usually between $25 – $150).
Once you've signed up through BlueHost and have WordPress up and running, you can then choose your theme.
The paid ones generally come with more updates and more features but a free theme is perfectly fine to start with.
My two favorite themes are Generate Press and Astra. These are both super fast, customizable and have great teams running them!
I personally use Generate Press, which I love.
A lot of people ask how it's possible to make money from blogging as, on the face of it, it's not that obvious.
Well, there are several ways to monetize a blog – I'll take you through the main ones:-
Display adverts. These are the annoying ads you seen on websites/blogs when you're reading through them.The ad company pays the blogger for the number of visitors who see the ads. This is usually around $20 per every 1000 visitors with the premium ad networks.

Selling products. Some bloggers sell their own products like courses, e-books, merchandise etc… This can be the most lucrative way of monetizing.

Affiliate marketing. This is where the blogger promotes someone else's product or service in exchange for a commission.

Sponsored posts. This is when the blogger is paid by a company to promote a product on their blog.
So here's a visual recap of how to start a blog:-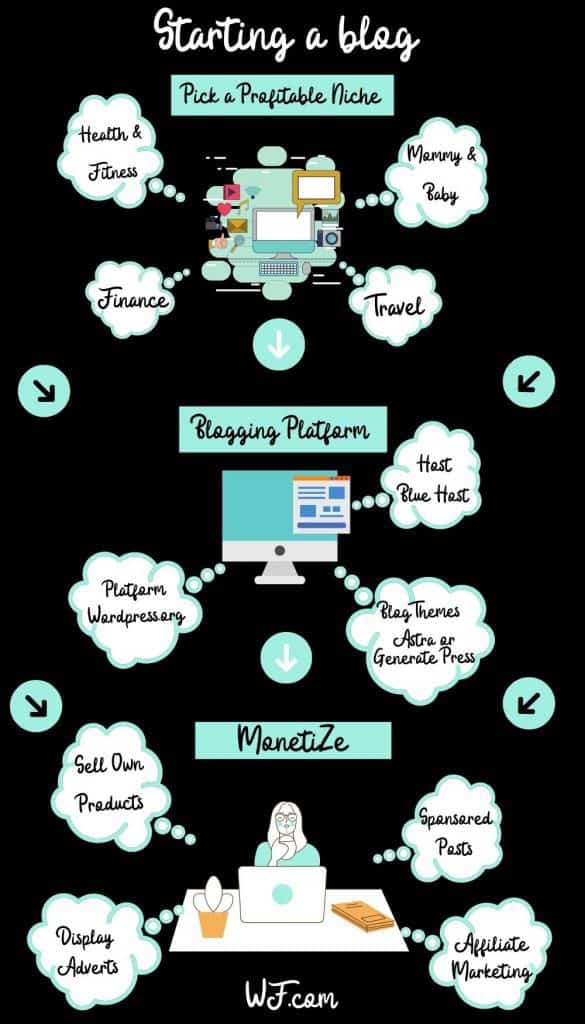 ---
2. Become a freelance writer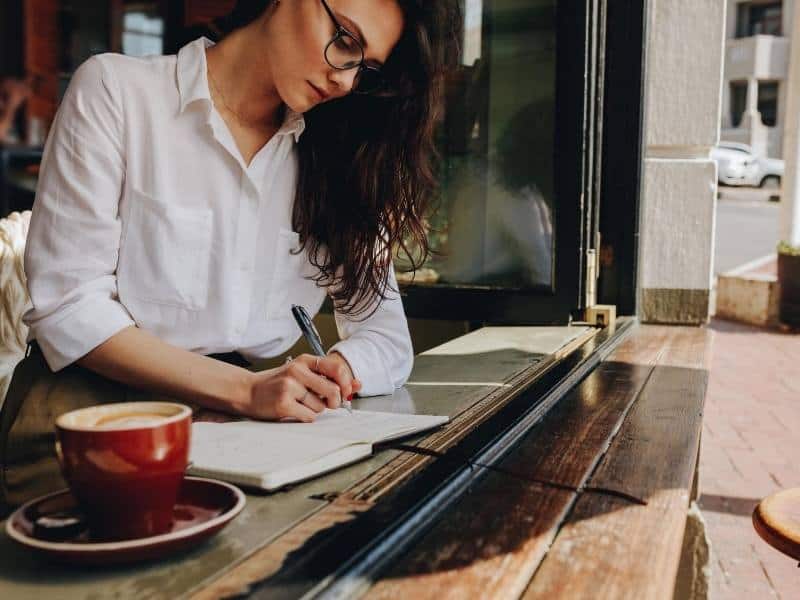 Freelance writers are self-employed writers who are paid to write by magazines, bloggers, news papers etc…
One of the areas of freelance writing I am personally familiar with is when freelance writers are employed by bloggers.
I have in the past employed freelance writers to write blog posts for another blog I run with my boyfriend.
This helps lighten our load and so we can get out more content.
One of the things I love about freelance writing is that anyone can do it!
Obviously it helps if you've got great English skills and a knack for writing but you don't need to have a degree in English to get freelance writing gigs!
You can pick gigs up from many different places now which makes it a very accessible business.
Here's some sites I have used to hire freelance writers:-
UpWork
Fivver
Problogger
Constant Content
Linkedin
According to the Bureau of Labor Statistics (BLS) writers make on average $61,820 per year.
You might not make this much to begin with because you will have to build a client base but once you've done that, it's not inconceivable that you will exceed that annual income.
In the blogging world, my experience is that good freelance writers charge around $50 per 1000 words.
Although I have seen this rate as high as $150.
The great thing about writing for bloggers is they're constantly streaming out content so if you can get, say, 10 regular clients, you'll have an almost constant flow of work coming your way.
---
The job of a proofreader is to check through written documents looking for errors.
That might be spelling, grammar, punctuation or formatting errors.
The idea is to save the author time and to have a second pair of eyes run over the document before it is published.
If you've got a keen eye for spotting writing errors then proofreading is likely to be the ideal business for you.
Again, you don't need to have a degree or any specialist English skills provided you are fairly proficient at English!
how to become a proofreader
If you're interested in proofreading then my recommendation is that you learn from the best!
Caitlin Pyle started a part time proofreading business a few years back in 2014 and made $43,000 in her first year. And that's part time!!!
Following on from that experience, she now teaches other prospective proofreaders everything there is to know about the business including:-
How to proofread properly
How to set up a proofreading business
How to market your business and find clients
How to grow and expand your business
She teaches this material through her Proofread Anywhere course which includes a free 76 minute workshop to see if proofreading is for you.
enrol in proofread anywhere
According to salary.com the median annual earnings for a proofreader was $52,486 as of this year.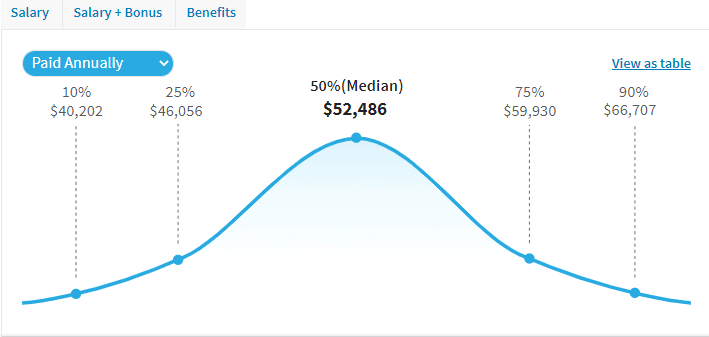 That is a fairly good salary and well above the national US average.
There is also potential to go a lot higher, especially if you do what Caitlin did and create your own course.
Caitlin's proofreading business now turns over more than $3m a year!!!
---
4. Become a virtual assistant
Virtual assistants are people hired by online business owners to assistant them with every day tasks to do with the running of the business.
This is usually tasks like:-
Replying to emails
Dealing with customer queries
Maintaining a blog or website
Creating promotional material
Managing marketing campaigns
Creating pins for pinterest
Managing social media accounts.
It is useful to have some IT skills and be familiar with online content and social media.
However, you do not need any formal qualifications so it's another business anyone can do.
how to become a virtual assistant
Just like proofreading there are also courses you can take to give you a head start.
The best course I have found on this topic is a course by Virtual Assistant guru Gina Horkey.
Her course teaches you how to do VA tasks, how set up a VA business, how to get clients and how to grow this into a fully fledged business.
Here's an example of the success someone had after taking the course.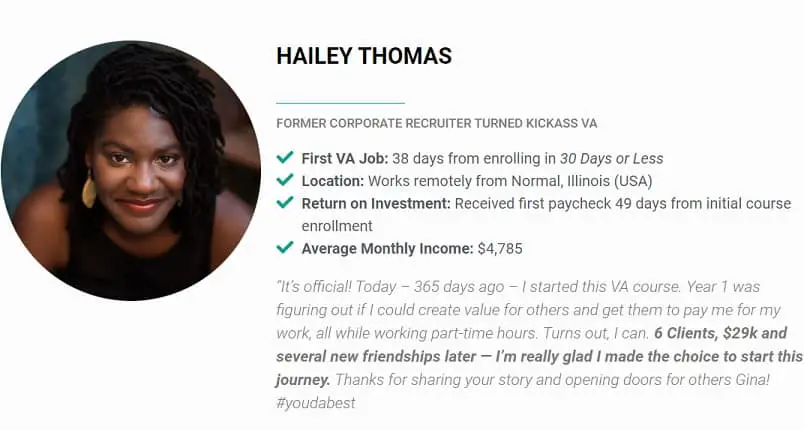 Gina was earning around $4000 a month within her first year of starting which is reflected by the above example from Hailey who, as you can see, now makes on average $4785 per month.
This is an excellent income and well above the US average.
---
A niche site is a bit like a blog but it's more about answering people's queries and providing information on a specific topic, whereas a blog is a bit more personal and often written about a person's story.
With a niche site you will write a series of very informative posts on topics that people are searching for using search engines like Google and Pinterest.
The aim is to rank highly in search engines so that you get a lot of traffic to your posts, which can then be monetized.
Here's some examples of niche sites:-
As you will note, these are all very specific topics that are what you would call "niched down".
how niche sites make money
Niche sites are usually monetized through affiliate marketing or by using display adverts, or both!
Affiliate Marketing
Affiliate marketing is where you promote another person's or company's product for a commission.
There are many affiliate marketing programs you can use to promote products in return for a commission but the main one for niche sites is Amazon Associates.
Amazon Associates is Amazon's own affiliate network which allows you to promote products sold on Amazon for a commission.
The commissions vary depending on the type of product you promote but most products sold on Amazon can be promoted using Amazon Associates.
In the context of a niche site, let's say you own a niche site about vacuum cleaners.
You would review a specific vacuum cleaner that's on the market and place an affiliate link for that vacuum cleaner within your review.
When someone then searches for a review of that vacuum, your review will appear on Google and hopefully that person lands on your site.
That person will hopefully read your review and if they are satisfied it's what they're looking for, they will then click your Amazon affiliate link to go purchase the vacuum on Amazon.
Yay!!! – you've just earned that lovely commission!
Better still, even if that person doesn't purchase the vacuum but they purchase something else instead, let's say a lawn mower, you still get a commission but for the lawn mower instead.
Display Adverts
Display adverts are the ads you see pop up on websites and blogs that you read.
Once you have enough traffic coming to your niche site you can apply to an ad network and they will pay to place adverts on your site.
My boyfriend and I are signed up to the premium ad network "Mediavine" on our other site and they pay us around $20 per every 1000 visitors who see our ads (this is called your RPM).
Essentially the more visitors you get, the more you'll make from ads.
The great thing about them is they're completely passive.
The ad network places the ads on your site and you don't really need to do anything other than attract readership.
Your earnings do vary with ads depending on the time of the year as advertisers spend more money leading up to Christmas, whereas January and mid-summer they spend less.
how to set up a niche site
Setting up a niche site can be done in the same way as setting up a blog (see above).
Again, I would recommend using WordPress.org as your niche site platform and BlueHost to host your site.
The income you can generate with a niche site will depend on how much traffic you can get.
Generally speaking, the more traffic and eyes on your content you can bring, the more you'll make.
This means the sky is the limit when it comes to the earnings potential with a niche site.
I know niche site owners who make $20,000 – $30,000 a month after only 2 years.
One of the key components of a successful niche site is having a lot of material.
It's probably pretty obvious but the more content you have, the more search terms you're going to cover for people searching for information on your chosen niche.
Once you've identified your niche, try and become the internet encyclopedia on that topic!
To maximize your chances of being successful do the following:-
Find a niche that's not too competitive
Make sure you do good key word research to see what people are searching for
Write well researched and thorough articles which will rank better on Google
Become an authority on your chosen niche
Build up a huge database of material on your chosen niche
---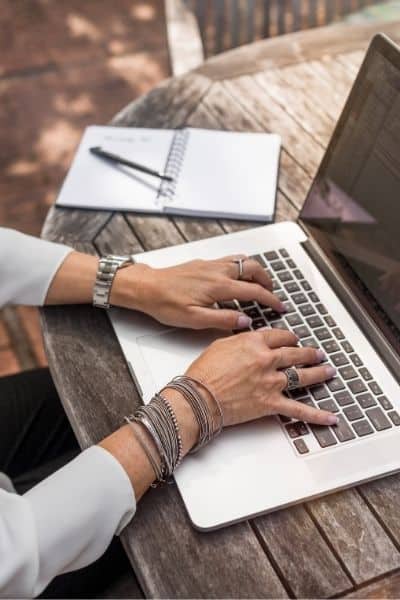 Transcription is the process of typing up audio into written text.
A transcriptionist will usually work off a recording from a dictaphone or from audio recorded in a Court for example.
Transcriptionists often work in medical or legal sectors either typing up audio of consultations or Court proceedings.
You can also be a general transcriptionist as well where you aren't specialized in one area.
Transcription does take some skill and it's not something you can pick up over night to a good standard.
You'll need to be fairly fast at typing (60-75 words per minute), have a good command of English and have good listening skills.
You'll also need the following:-
Laptop or desktop computer
A headset
Word processor
Internet connection
Foot pedal (this allows you to stop and start the recording easier)
But the great thing is you don't need any specialist qualifications so it is super accessible as a work from home career.
How to become a transcriptionist
Transcription does take some practice and experience but there are courses that you can take to get you up to speed much quicker.
I would recommend the course Transcribe Anywhere by Janet Shaughnessy if you think this is a career you could jump into.
She'll teach you:-
How to improve your typing and listening skills
Where to buy transcription equipment
How to find work
How to set up a business
How to work out what to charge
This is what one person has to say

Transcription does take some practice and experience but there are courses that you can take to get you up to speed much quicker.
According to zip recruiter the average transcriptionist earns around $42,000 pa but it wouldn't take you much effort to get beyond that annual figure with just a few more side gigs.
---
With over 2.7 billion active users, Facebook is one of the largest advertising platforms in the world.
After all, showing ads to their users is how Facebook generates most of its revenue which stood at a jaw dropping $70b in 2019.
Wowzers.
Facebook is an untapped gold mine for businesses who are not yet using its advertising potential.
what do facebook marketers do?
You see the problem with Facebook ads is they are rather expensive.
It you don't know what you're doing, you can quite easily throw good money away – and fast!
The issue with most amateur FB marketers is they don't know how to use FB ads to their full potential which means their target audience doesn't get reached and as a result, their conversions (sales) suffer!
That's where Facebook marketers come in!
A FB marketer is skilled in where to place the ads, which ads to use and which markets to target to bring in more business for their clients.
how to learn to be a fb marketer
FB marketing is something that you can learn yourself by just understanding how Facebook ads actually work, which is a skill in itself.
To fast track your knowledge then I would recommend the Facebook Side Hustle Course by Bobby Hoyt which teaches you in 3 phases how to:-
Set up a Facebook ad system for a local business
Find clients who want to pay you for this kind of service
Exactly what to say to get these potential clients to say "yes" and agree to move forward with you.
This is taught off the back of Bobby's experience of helping clients run ads as a side hustle where he managed to make enough money to replace his day job salary.
Your earnings will depend on how many clients you can get and how successful you are at bringing them business.
Really the sky is the limit!
If you can bring, say, a private dentist 10 clients a month, all paying, say, $3000 for dental work, that dentist is going to be fairly happy to give you $3000 of that income for your services!
Damn – you just made him $27,000 so of course he'll be happy!
Expect to make anything from a few hundred bucks a client to up to $4000 a client! It will really depend on the clients you can attract!
---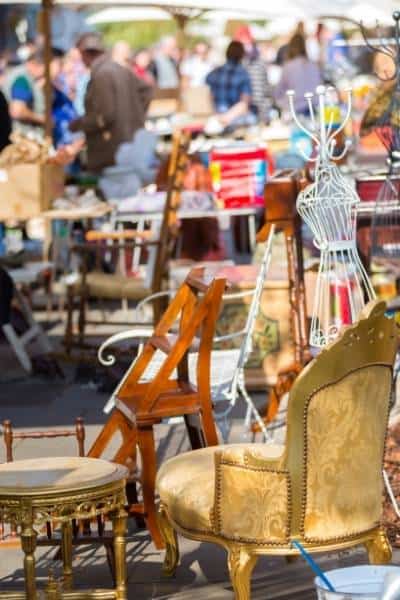 Flipping is the process of buying goods (usually second hand) on the cheap and then selling them on for a profit.
This is a skill that does take some developing but once you've mastered it, it can be extremely lucrative.
You can find all sorts of goods to sell on at places like:-
Closing down sales
Flea markets
Auctions
Ebay
Craig's list
Amazon
Internet forums
Garage sales
There are many people out there making a full time or side income from flipping goods.
Rob and Mel who run the course Flea Market Flipper have turned flipping into a legitimate home business and turn over $100k a year flipping all sorts of product.
Here's some of the crazy profits they've made on some very ordinary goods:-
Door knob: Purchased for $8, sold for $200
Double stroller: Purchased for $90, sold for $380
Patio set: Purchased for $50, Sold for $2,100
Carousel Horse: Purchased for $175, Sold for $1,299
Old radio: Purchased $15, Sold for $200
Rob and Mel's course will teach you everything you need to know about flipping.
From how to source and identify profitable items, to how to sell them and run a full fledged flipping business at home.
Again, I would recommend using WordPress.org as your niche site platform and BlueHost to host your site.
As above, Rob and Mel make $100,000+ a year from their flipping business.
There are tons of other examples on their website where people have taken their courses and have made huge part time side hustle income and even full time income.
---
9. set up a business with amazon
Amazon is now the biggest online market place in the world and this means there are a huge number of opportunities to make money on its platform.
Some of the best Amazon opportunities include:-
Amazon Associates – I touched on this above where you can leverage Amazon's affiliate program to make money with niches sites
Amazon FBA (fulfilled by Amazon) – This is where you sell goods on Amazon but you don't keep any inventory. Amazon hold the goods at their warehouses and deal with deliveries and returns for you.
Amazon Mechanical Turk – This is Amazon's crowd sourcing platform where you an complete small tasks as part of a bigger project (this is more of a side hustle than a full time income)
Amazon Merch – This is Amazon's print on demand service where you can design things like t-shirts and sell them on Amazon
Kindle Direct Publishing – This is Amazon's publishing service where you can sell e-books you've written on Amazon.
So, yes, the opportunities on Amazon are varied – there really is something for everyone!
They're also accessible and don't need any specialist qualifications to start.
How to set up an amazon business
Setting up a business on Amazon will require some research on your part but there are tons of useful guides on the web for the above opportunities I have mentioned.
I have written a full post about Amazon business opportunities which provides some more detail on what you need to do to get started.
My post provides a review for each business model setting how how difficult they are, their earnings potential and how difficult they are to set up.
Each of the above business models I've mentioned are different in terms of potential earnings so I can only provide a rough guide:-
Amazon associates – Potentially very lucrative – I know niche site owners using Amazon Associates who make $20,000 – $30,000 a month
Amazon FBA (fulfilled by Amazon) – The range of earnings is around $10,000 – $100,000 per year with a minority making above those sums
Amazon Mechanical Turk – As above, this is the least lucrative of the examples and will only pay around minimum wage
Amazon Merch – The range of earnings once you're established is around $10,000 – $100,000 per year – here's an example of someone making $93k in 19 days
Kindle Direct Publishing – Earnings vary hugely but here's some self publishing success stories to whet your palate
---
10. Create and sell online courses
There is literally a course on the internet for everything these days.
You can even buy courses on how to make the perfect cup of coffee.
This means that unless you have literally no skills in anything, you can probably make a course to sell.
You don't even need to be an expert or have any special qualifications to make a course. Obviously you'll need some knowledge but it's not like courses makers are all Phd graduates.
Here's a few examples of very lucrative courses that I know make very good money online:-
where can I make or host a course?
Firstly, courses can be presented in many formats.
You might do video courses, e-book courses, interactive courses, podcast courses and even one-to-one or telephone courses.
Not everyone is comfortable with being in front of a camera and you don't have to be!
Here's some of my favorite places to host courses:-
Udemy (video courses)
Thinkific (online written courses)
Teachable (online written courses)
To make video courses you will need a half-decent camera and a microphone.
If you're just doing written courses then obviously this equipment isn't necessary and you can pretty much just get going with a little bit of design knowledge.
All the most successful bloggers seem to write courses in some form!
As you've seen from the figures above, this means the earnings from making and selling courses can be astronomical!
For example, Lauren and Alex from Avocadu/Create and Go blogs make well over $100k a month just form selling courses on dieting and blogging.
Caitlin Pyle who makes the proofreading course I mention above generates around $3m a year from her course sales.
Yes, courses take time to make but they can be ridiculously profitable!
💡 Top tip: Once you've build your course, reach out to bloggers in the niche your course relates to and invite them to become affiliate partners for your course where they get a commission for selling it. Yes, you'll have to pay them (usually around 10-50% of the course price per each sale they make you) but this is a sure-fire way to get your course in front of people and to blow up your sales!
---
PIN IT FOR LATER:-