Life has a funny way of hitting us when we're down. Whether it's the faulty boiler, a surprise bill or urgent vehicle repairs!
Sometimes you just need to make money fast!
The good news is that there are now more ways than ever to make money fast online!
This post will take a look at 8 ways you can get $50 when you urgently need it.
I have tried all of these methods and know they work so let's take a look.
This post contains affiliate links. This means if you click one of our links and go on to purchase a product we recommend, we may receive a small commission. See our disclosure policy for more information.
---
You're never going to become a millionaire taking surveys but they are a super fast way of making a few extra dollars.
The issue is that there are a ton of scam survey sites that you should avoid like the plague.
I try and stick to 3 survey companies that I have faith in and have made money with.
The 3 I tend to use are:-
(Only available in USA, Australia and Canada).
Survey Junkie is one of the best survey companies I have found.
They pay by paypal, always have lots of surveys and are very easy and simple to use.
They also have a 4.5⭐rating on Trust Pilot.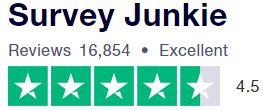 Expect to make up to $10 per hour with Survey Junkie, although from time to time more lucrative survey opportunities do come up called "focus groups" where you can make up to $150.
You can join Survey Junkie using my special link and get free bonus points for joining up.
(Only available in USA, Australia, Canada, India, Germany, UK and Ireland).
SwagBucks is another reputable survey company I like to use.
Not only do they offer a wide variety of surveys but you can also make money playing games, watching videos and browsing the internet.
Expect to earn around $5 – $10 an hour. Their "gold surveys" are the most lucrative.
They pay by Paypal or gift card.
Join SwagBucks with my special link and get a free $5 sign up bonus.
(Only available in USA and Canada).
My Points is my third choice survey company!
They are very much like SwagBucks and you can earn money not only by completing surveys but in a variety of different ways so they are fairly versatile.
Expect around $5 – $10 per hour with My Points.
Join My Points with my special link and get free bonus points.
---
(Currently available in USA, Canada, Germany, Spain, France, Italy, Netherlands, Norway and Sweden).
If you have a love for dogs, then why not turn that passion into a side hustle.
With Rover you can get paid to walk and sit dogs when their owners aren't available.
Simply sign up for the app and it will put you in touch with nearby dog owners who need their dog walking or looking after.
Expect to make around $15 – $20 an hour with Rover.
---
3. Sell Your Unwanted stuff
You would be amazed at how quickly you can make $50 by selling your unwanted things.
Some of my favorite quick sells are:-
Baby clothes
Old video games
Adult clothes – particularly old shoes
Old CD's and DVD's
Jewelry
Old cell phones
No longer used kids' toys
For electronics my favorite place to sell is Decluttr as they will buy old CD's, DVD's, phones, games, laptops and Lego.
They also offer direct deposit and PayPal payments.
For everything else I use:-
 ThredUp (for clothes)
Ebay
Craig's List
Online forums
---
User Lytics pay people to test things like websites, adverts and images.
You need a computer, mic and webcam to do this but it's pretty good for a quick buck!
You can sign up to User Lytics here
Once signed up you can then access available tests to complete.
To do the tests you'll review things like websites and your camera and mic pick up your reactions to what you're reviewing.
Expect to earn around $10 per test but occasionally you can make more.
---
TaskRabbit help you find people in your area who need small jobs doing such as assembling furniture, mounting TV's, removals, cleaning and deliveries.
Sign up on their website and you can access these small tasks and earn around $20 an hour for doing them.
This is the perfect side hustle for those who like to get their hands busy and would rather be making money on the move than stuck at a desk.
(For residents of the USA only)
Ibotta is an app that allows you to secure cash back whenever you buy qualifying items.
Simply install the app and whenever you buy a qualifying item through it you will get get cashback credited to your account.
Whenever you've reached $20 in cashback you can then choose to withdraw via PayPal or with gift cards.
---
Babysitting is one of the oldest side hustles in the book.
However, it's just got a lot easier with companies like SitterCity and Care.com as they can put you in touch with babysitting opportunities.
There will be background checks but providing you have no criminal record etc.. you should be fine.
Expect to earn around $15 – $20 per hour so you should be able to reach $50 in no time at all.
---
8. Switch Your bank account
A lot of banks these days will offer you incentives to move your accounts to them.
I have done this in the past and made over $200 in no time at all.
For example if you move your checking out to "Chase" they will pay you $200 for the pleasure.
Most banks attach conditions to this like having to leave your money there for a set period or having to credit your account each month with a minimum payment but if you can fulfill these things then it's likely the easiest cash you'll ever make.
Here's a few other examples:-
These are examples in the USA but you should be able to find similar offers all around the world.
---
Making $50 is really not that difficult in today's internet age.
I hope some of these examples will provide a helpful guide as to where you can get started.
Good luck!
---
Pin it for later:-